In this quick tutorial, we will see how to add a border in Canva that can also be resized without getting cropped.
What NOT works
Typically, you might have searched for 'rectangle border' in Canva under the Elements section.
Read more

: How to Add a Border in Canva (BEST Method)
This might give good results but they are mostly graphics or images. Now, the problem with these graphics or images is that they get cropped when resizing from the edges.
How to add a border in Canva correctly
Once you are in the design page within Canva, follow the below given steps in their order: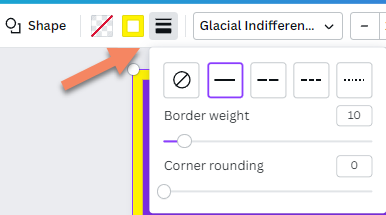 Add a square shape from the Elements tab.
Click on COLOR. Choose 'No color'.
Click on Border Style. Choose a dash style and also update the Border weight to anything more than 1. For better results keep it to 4 or above.
Next, optionally, click on Border color and choose a color of your choice.
Now, you should have a beautiful border which can be resized to fill your page frame without any cropping problem.